Factory Authorized Trade Up Sale
Now through February 28, trade in your old speakers and we will allow at least 20% off any Persona Model
Please reach out to us for details or to schedule your own private audition.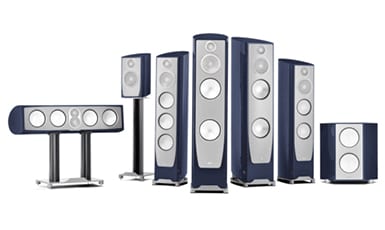 Consider this elegant new loudspeaker. Now, close your eyes for a moment. That is what this loudspeaker sounds like: nothing at all. It is engineered to virtually vanish into the performance of your audio, to "take on the persona" of your audio, to be more transparent than any speaker before it. The key to this astonishing new level of performance is Persona's dual TrueExtent Beryllium tweeter and mid-range driver system. Beryllium, usually found only in speakers costing much more, delivers greater accuracy and smooth, uncolored response across a wide, well-blended frequency spectrum. Combined with the radical application of 33 years of audio innovations into one amazing loudspeaker, this makes Persona an eye-opening performance value.
5-driver, 3 way floorstanding bass reflex speaker. (priced each)